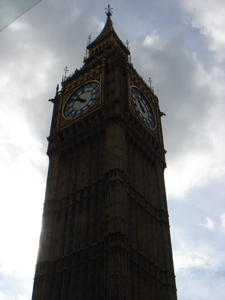 Instead of proceeding directly to Leicester after landing in the UK on the 19th of September, I spent the first week of my European adventure in London as part of a tour set up through Holy Cross. The tour group was made up of other study abroad kids from all over America (and of course our favorite Australian). Despite a few consecutive nights of being considerably over-served and making a few very interesting phone calls home, London was an absolute blast. Leicester Uni uses Proscenium Tours to organize the week and I could not recommend our guides Suzanne and Simon highly enough - both were very knowledgeable and moved at a pace that kept things interesting.
We managed to hit most of the must-see touristy places in London; St. Paul's Cathedral, Tate Modern, London Bridge, Tower Bridge, Westminster Abby, Buckingham Palace, Leicester Square, Trafalgar Square, Piccadilly Circus, The British Museum, Big Ben and the Houses of Parliament all made the list. We also took in a show at the Dominion Theater, a production of "We Will Rock You," the musical told through the music of Queen. I had been to London several times before, because my family and I lived in Oxford for most of the 1999-2000 academic year while my father was on sabbatical. London is never boring, however, and I found myself very much enjoying revisiting everything with the new spin of being guided by native Londoners without anyone to function as a parent for several thousand miles.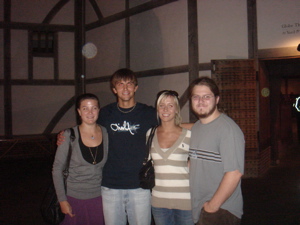 Even with all the time I'd spent in London with my family, we managed to find a few things I had never done, such as take in a show at the Globe Theater. This theater is supposed to be the most accurate replica of The Shakespeare-era Globe Theater where he staged his legendary plays in the 14th century. The Globe Theater is unique because it makes every attempt to forgo modern stage equipment in favor of performing in daylight and without any elaborate special effects as the Bard would have done. The atmosphere is complete with a section in the middle where the poor folks stand (tickets only £5) and get covered with flying water and food from the stage. We spent the extra few quid to not get prop-food and water dumped on us, and to have some place to sit for the near three hour production of Anthony and Cleopatra.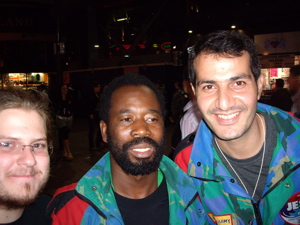 The night life in London on a weekend is always a good time. The bars and pubs close deceptively early, but we found that just walking around Leicester Square after dark proved to be more than enough entertainment. We observed amateur performers playing guitars and other weird instruments I didn't always recognize standing next to "missionaries" in their Jesus-camo pamphleting the staggering masses. Becasue most of the bars still close around midnight or 1am, most of the London night life scene revolves around clubs. I arrived in the UK not being much of a club guy, and while I still can't compete with the electronica-crazed maniacs on the London scene I have grown partial to a bit of Drum 'n Base every now and again.
On the way to Leicester at the end of the week we stopped in Oxford and Stratford-Upon-Avon, the birth place of Shakespeare. It seemed only fitting that we attend a Royal Shakespeare company play, so we all went to see Romeo and Juliet as a group. After the show we went to this fantastic pub called the Black Swan (forever nicknamed the "Dirty Duck"), where all the actors supposedly go for a pint after the show is over. I didn't see anybody I recognized from the show, but we did end up having a great time.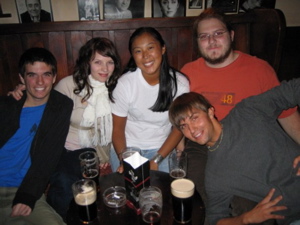 In the end I met some really cool people and had a fantastic first week in London. I was a bit saddened as the year progressed because I found myself losing touch with the initial group of people that I met. No small part of that was due to the fact that most people I met in London only stayed for the first semester. Encouraging (read: forcing) students to spend the entire year abroad is one Holy Cross policy that I profoundly agree with. After the first semester you get the sense that you are finally settled in; ideally you've made a great bunch of friends and are finally comfortable with getting around in your host city. Granted, it wound up being ridiculously expensive to stay for the full year, but to be honest looking back on this great year will help me through working off all the debt. An interesting side note; the dollar to pound sterling exchange rate never sunk much below 1.8:1, effectively cutting all the money I had saved in half.